8. a typical visit to Bray Lake ...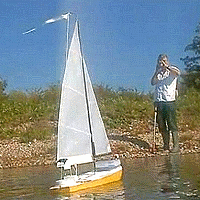 Robin has added this section, which may be of interest to journalists, who want to "tag along" to get some photos or video. It may also be of help to dog-walkers, who probably wonder why that strange man, seems to be talking to himself, and listening to several radios on the roof of his car.
Snoopy has started making regular visits to Bray Lake again, to prepare him for his next attempt on the Atlantic, expected before Christmas. Bray Lake is near Maidenhead, not far from the M4 motorway junction, and about 20 minutes drive from Robn's home in Sunninghill. You can find out more by looking at the bottom of the Press Release, or simply visit www.braylake.com.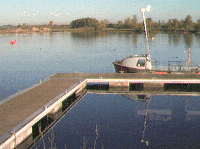 Robin normally avoids days when it is raining, or when there is no wind at all. He therefore checks web sites like the Met Office, RainToday, and the Maidenhead Sailing Club web cam.
One of the boats are normally ready, and are quickly loaded into the back of Robin's rusty old Mercedes E240 estate car, which was once silver, before discoloured by rust and mud. Important junk added to the car include wellies (the waders are reserved for sea launches), a cheap transistor radio - to pick up speech from Snoopy's computer, a Pocket PC based GPS to record a plot of Snoopy's path on the lake, and - maybe most important of all - Robin's camcorder - so he can record everything, rather than rely on his flakey memory.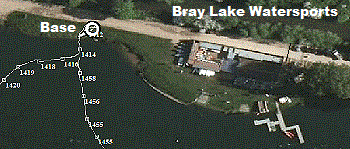 Most people park on the right, just before the club house, but Robin has the combination to the barrier, so parks his car near the "Base", a few yards past the club house. Snoopy is usually launched within 5 minutes of Robin arriving. First Robin switches on the Pocket PC, since it takes a minute or two to "warm up" and start recording GPS data. He puts on his wellies, and leans Snoopy against a post, with a tranny radio switched on to pick up the computer's speech. The computer is switched on, and within a few minutes it is speaking and ready to launch.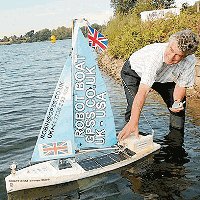 Robin then uses his camcorder to shoot less than a minutes video, saying things like the date, any changes to Snoopy's boat, and showing what the wind strength and direction was.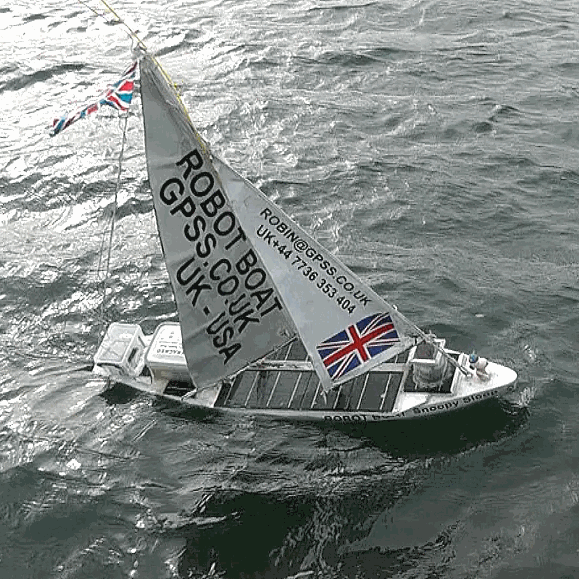 Snoopy is then dropped in the water, and soon after, Robin shoots video. A typical video might last an hour or more, and occasionally a few small clips might be used in edited videos made public. However, the main purpose of Robin's video, is to add yet another unedited video DVD to his collection at home. It provides a useful record of what happened.
Snoopy usually sails around the "Bray Lake Test" within an hour, and possibly as quickly as 20 minutes. This usually depends on the wind direction: the fastest trips are usually with a gentle breeze of 5 to 10 mph from the north-west, which means Snoopy does not need to tack towards a waypoint directly upwind. If the wind is particularly "unkind", Snoopy's trip might take much longer than an hour: the slow bit is always where he needs to sail upwind.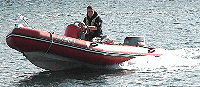 He will normally return accurately to his Base, where he started, but occasionally he might end up stuck in reeds on the far bank, tangled in trees on the island, or snagged on the mooring for a floating jetty. That's when Robin calls in the "Rescue Team" from the club house, and pops another £5 into their drinks kitty :-)
If Snoopy has been left over at Bray Lake for 24/7 reliability tests, he will have his SPOT tracker, which may not always be with him, if it is being worked upon. Robin will occasionally go over to visually check Snoopy, or push him out again, if he has drifted into the bank due to the wind having dropped overnight.
9. Snoopy's Bray Lake Test ... sail 530 metres automatically, through 5 waypoints ...

GPS plot of a Bray Lake Test in March 2014: solving the zig-zag sailing, giving a straighter and faster path ...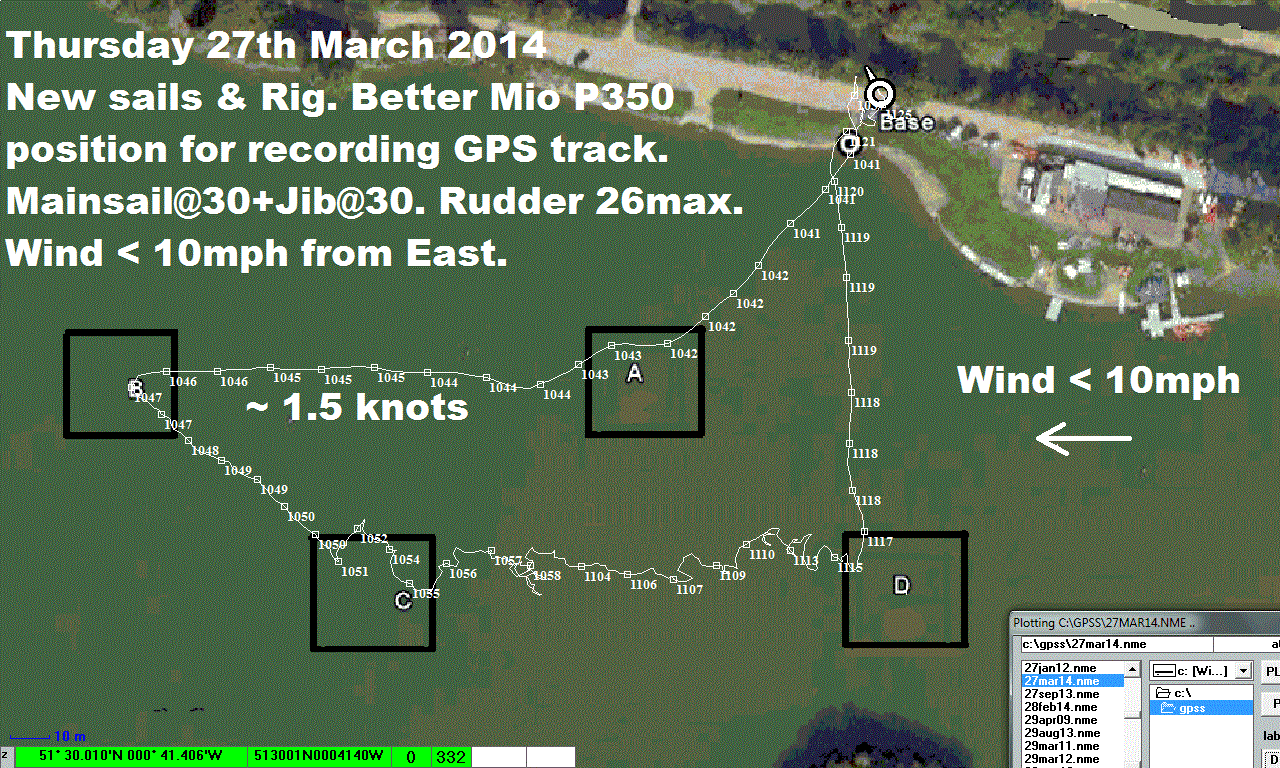 Snoopy's boat on test before the 2014 Atlantic attempt. That's Robin sat on the bank. Filmed by experimental boat 6 with a Mobius camera.

Another frame from the Mobius video camera, used for Bray Lake tests. Robin watches from near his car, at the "Base" position.

Snoopy's preparation in 2012 for the Atlantic crossing - the first taste of salt water ! ...

10. the Microtransat List and who visits this page ?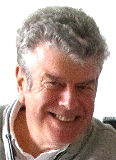 from Robin Lovelock in Sunninghill, Ascot, England: this section tells you when, and from roughly where, guys are visiting this "Snoopy" page. Sometimes it may even give a clue to their organisation. e.g. a visit from Aberwystwyth might be someone working in their University Microtransat Team. Start with a visit to Snoopy's Microtransat Contact List. You may even wish to join it. I certainly welcome private emails from those interested in robot boats, even if you don't want to do it publicly.

As I say on other pages, it's very convenient for me, that there are so few visitors to this page: See map and words near end of my Home page ;-)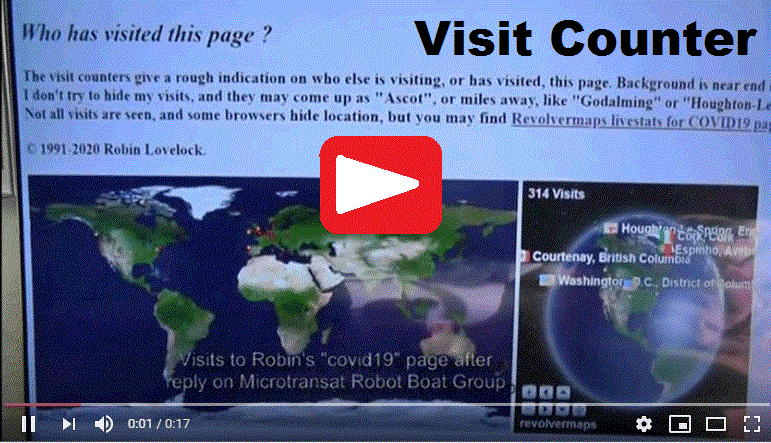 The visit counters may give a rough indication on who else is visiting, or has visited, this page. I don't hide or disguise my visits, but they may appear as "Ascot", or miles away, like "Farnborough, England" (on my Study PC), or "Southend-on-Sea, England" ( on the Lounge PC). Positions may not be accurate, but times are. These may change at any time, without control by me. So, you may see if I'm "working" in the Study, or "playing" in Lounge :-)

Not all visits are seen, and some browsers hide location, but you may find Revolvermaps livestats for this "Snnopy" page interesting.

The video on the right shows several guys visiting at the same time, after I posted the link to my Covid19 page on the Microtransat forum :-)

The rest of you: please do not hesitate to contact me, with an email to my robin@gpss.co.uk (on my Contact page). Please tell me a little about yourself, such as what country, nearest town, and any interest in robot sailing boats or the Microtransat Challenge. Be sure to say what time you visited this "Snoopy" page, and what brought you to it.

If you know the guys who rescued Snoopy in March 2015, I owe you some beers ! :-)

There have been

visits to this page counted by Digits.net

since 20th August 2015.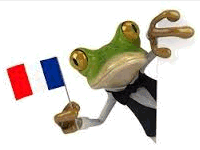 the French ENSTA-Bretagne boat, braving the Atlantic waves !

© 1991-2020 Robin Lovelock. Please credit www.gpss.co.uk if you use material from any of these pages. Thankyou.