10. the Microtransat List and who visits this page ?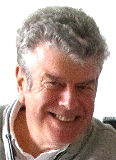 from Robin: this section tells you from roughly where, and when, guys are visiting this "Snoopy" page. Sometimes it may even give a clue to their organisation. e.g. a visit from Aberwystwyth might be someone working in their University Microtransat Team. Start with a visit to Snoopy's Microtransat Contact List. You may even wish to join it. I certainly welcome private emails from those interested in robot boats, even if you don't want to do it publicly.
I've used free Digits web counters on the "Home" page of my GPSS.co.uk site, and charity NHSCare.info for years. Each morning I check how much they increased in 24 hours, and it gives me early warning of emails or 'phone calls, due to something like a BBC website having included a link in a news story. In recent years I've used the Clustrmaps counter, which also provides information on from where and when a visit to my web pages was done. More recently I've set up seperate counters for this "Snoopy" page.
If you click on the Clustrmaps World map image below, it will take you to Clustrmaps statistics of visits to this SNOOPY page. If you bookmark the page, you can then visit the link, see who has visited, but not be "counted" every time you do this check. Similarly, you can see the visits to the GPSS.co.uk Home page, by clicking on that World map image, at the bottom of the page - or just visit Clustrmaps statistics of visits to the Homepage of GPSS.co.uk.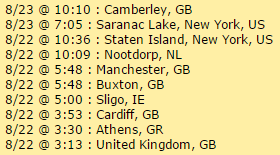 These Clustrmaps statistics include information such as in that yellow image to the right: the time of the visit, which seems to be accurate, and geographic location, based on the IP Address. Some will tell you no more than the country: others may show a particular town or city. But do not expect too much. e.g. my location in Sunninghill, near Ascot, UK, comes up as "Camberley". Every week or two it changes. e.g. "West Drayton" or "Farnborough". But these places are within 5 or 10 miles/km of my location. The times are accurate, to a minute, and my tests here show them to be in local UK time, BST. If you or friends visit the Snoopy page, and at what time, you should soon recognise what comes up for your visit. I'll also be interested to know, particularly if you have times shown in UK time, when you are not in the UK.
If a visit appears for this "Snoopy" page, but NOT for the "Home" page - that tells you that the visitor went direct to the page, from a bookmark or from a link taken from another web site or email. This rules out someone who started on the GPSS.co.uk "Home" page, perhaps after a search on "gps software", then visited the prominently linked "Snoopy" page, out of curiosity. i.e. they are probably really interested in robot boats.
Please do not hesitate to contact me, with an email to my robin@gpss.co.uk (on my Contact page) if you do any tests which tell us more about the limitations of using Clustrmaps in this way. Please tell me a little about yourself, such as what country, nearest town, and any interest in robot sailing boats or the Microtransat Challenge.
There have been

visits to this page counted by Digits Web Counter since 20th August 2015.
the French ENSTA-Bretagne boat, braving the Atlantic waves !

© 1991-2015 Robin Lovelock. Please credit www.gpss.co.uk if you use material from any of these pages. Thankyou.