Home . About . GPS . Downloads . Business . Partners . Contact . Family . AVL . Links . History . AsOnTV . Holidays . Snoopy . NHSCare.info . Grumpy
Hi ! I'm Robin Lovelock, and this private "Garden" page is to aid June and I getting some work done in our wilderness of a garden. Pictures say more than a thousand words, and it should save everyone a lot of time in agreeing what work should be done next.
Our full contact details are on that "Contact" page above, and our address is 22 Armitage Court, Sunninghill, Ascot, Berks SL5 9TA. Tel 01344 620775. My mobile is 07736 353 404 and my email address is robin@gpss.co.uk.
I'm looking for someone who is able to start small, agreed bits of work soon, at a sensible cost. I suggest we agree an hourly rate, and each session might typically involve one or two men, working for 2 or 3 hours. We have most of the tools needed, including ladders - with the possible exception of a vehicle to take material away, or a heavy duty shredder. The most practical approach will probably involve shredding then composting at the end of our back garden, so a vehicle may not be needed.
If you are busy with other work, so there are interruptions, it will be good if our family or another helper can continue, so that we continue to make good progress. Payment can be "cash in hand", on the day, and we need little more than an exchange of emails, paper notes, or texts, to ensure there are no misunderstandings on things like the work itself or costs.

Here are our priority tasks:
1. Shred and prepare existing material at end of the back garden to make space for lots more.
2. drastically cut back the wysteria on rear extention including it's roof, shred, and dump at back.
3. ditto for the grape vines on the rear of the house ( although shredding probably not needed )
4. ditto for the fig - delayed until the figs are ripe.
5. scoop up weeds from top pond, near rear patio, and dump at back.
6. find and root out any brambles around garden, shred, and dump at back ( or take away ).
7. Cut back wild rhodendrons: shred into seperate compost heap at end, or take away.
Other work to be agreed, as we make progress.
I hope we can get much of this work done well before Christmas - preferably before the leaves start to fall. It will then make it much easier to clear the autumn leaves with our blower, either to new compost heaps at the end of our garden, or over into our neighbours gardens :-)
After this urgent work, that planned for next year includes the front garden, such as trimming of bushes and perhaps re-turfing the lawn. More substantial tasks, best done as "fixed price", rather than "hourly rate", might include our drive ( either tarmac or block-paving), repairs to the house exterior woodwork, like window sills, and exterior painting. We would also like our "sticky" roller-blind garage door fixed - preferably before Christmas.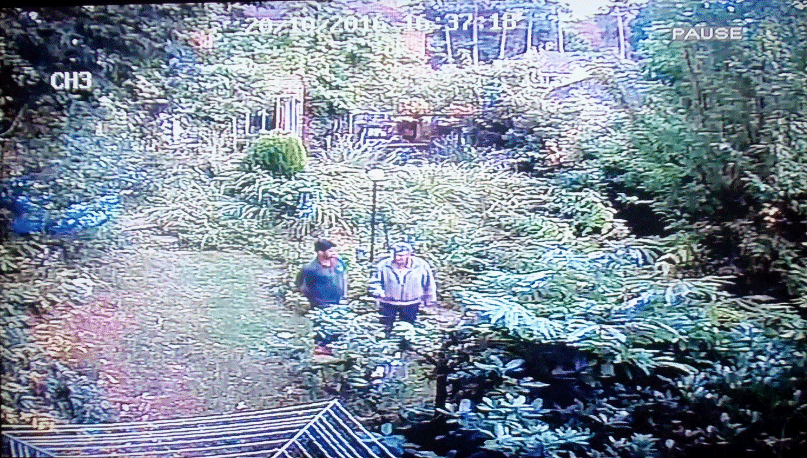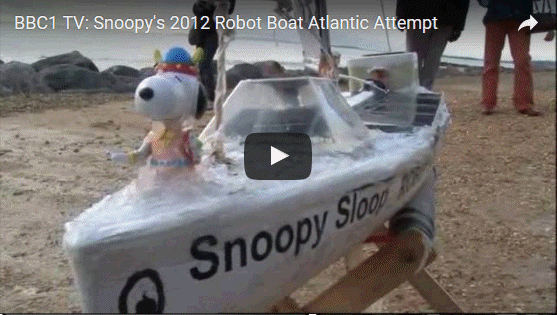 On 20th October 2016, Robin had a visit from a gardener, reccomended by one of his daughters, and we expect to have him and his team do the work described here, but very differently to how I imagined above. It would be a fixed price contract, payable on completion, with all work expected to be done on the same day. The big change is that all waste would be taken away, rather than shredded. Details will be by mutual agreement, such as a day soon, and perhaps starting by removing a branch obscuring the view from a colour CCTV camera up the pine tree (top left corner in this CCTV frame). A long ladder is kept nearby. If done at the start, it may be possible to create a speeded up, time-lapse video, of these few hours of work. Who knows: it could end up being part of the "before and after" version of this page, that could eventually become public, in time for this years "Lovelock Family Xmas Newsletter". It might even appear on Robin's AsOnTV page, as does that two minute video here, that he was shown. Pictures and videos say so much more than words ;-)
February 2018: They never followed up. I guess the young lad's dad said this customer was too big a risk ;-)

The pictures below, taken on 10th October 2016, should help you assess and plan the work, including Health & Safety aspects ;-)
No work initially at the front, but access is around the side, to the right.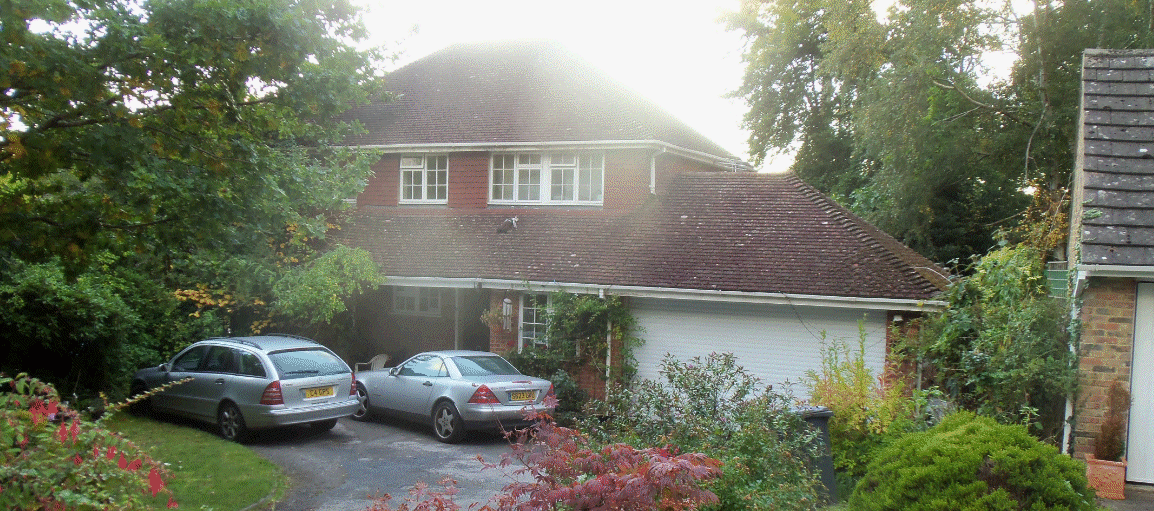 The rear extention is overgrown with wysteria, including onto the roof, about 2 or 3 feet from edge. The rear wall is overgrown with grape vine, up to the gutter.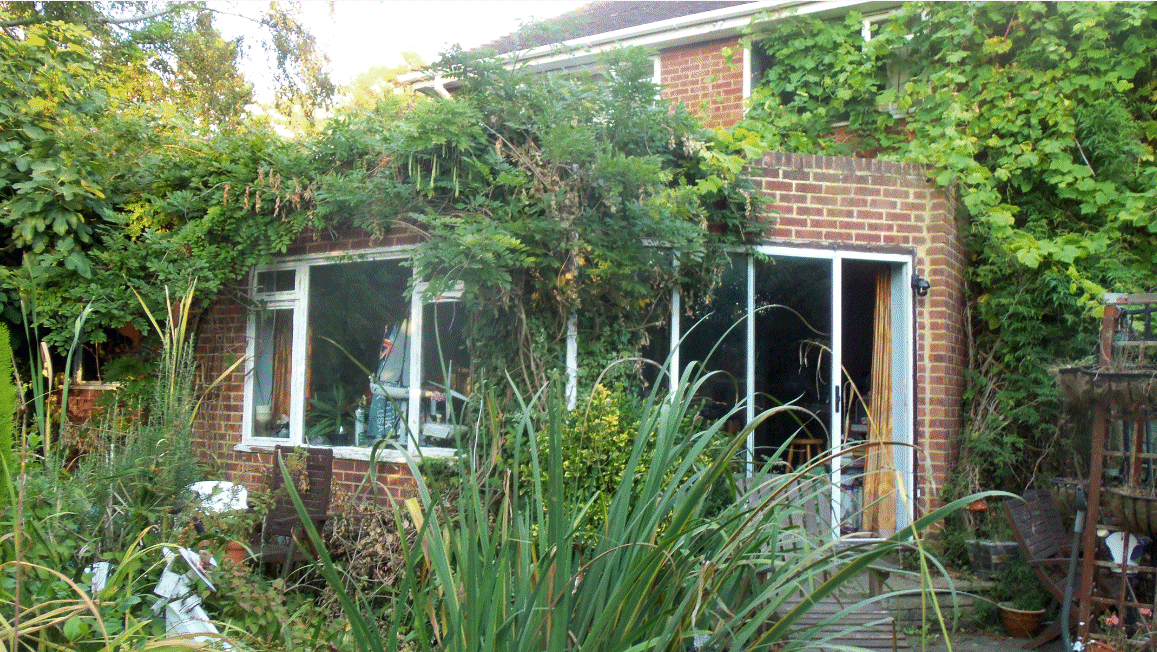 The fig is to the left, as seen from the rear, near the corner of the house.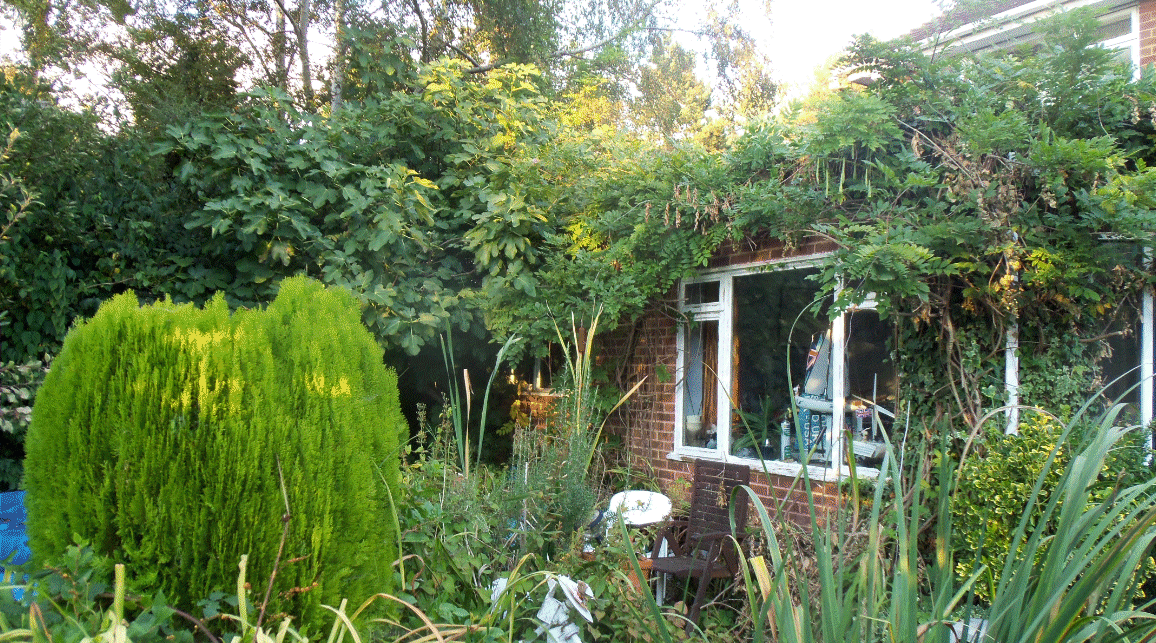 The top pond is near the patio behind the extention.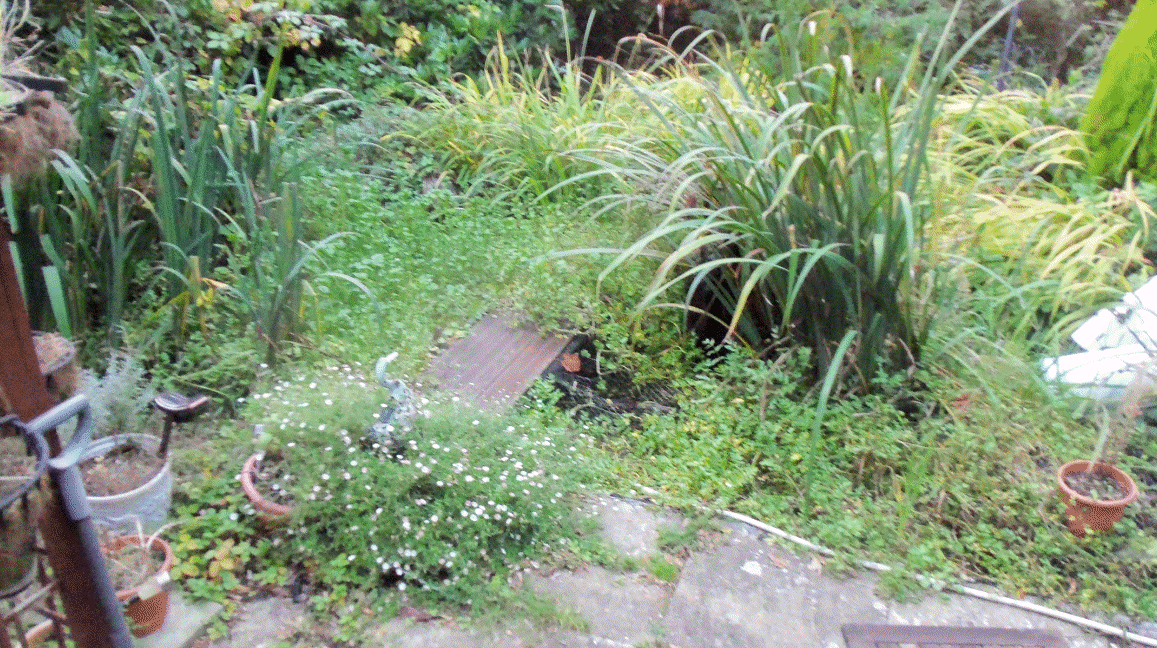 The area between top pond and bottom pond is overgrown.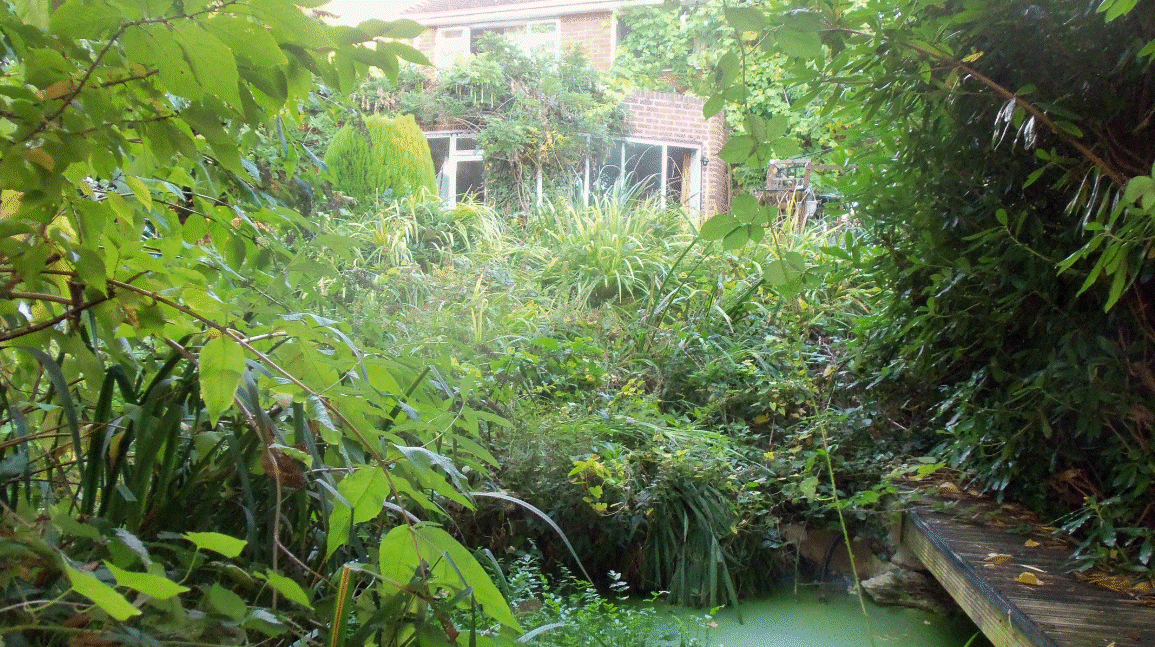 The whole garden is overgrown with weeds or plants that need to be cut back, like rhodos.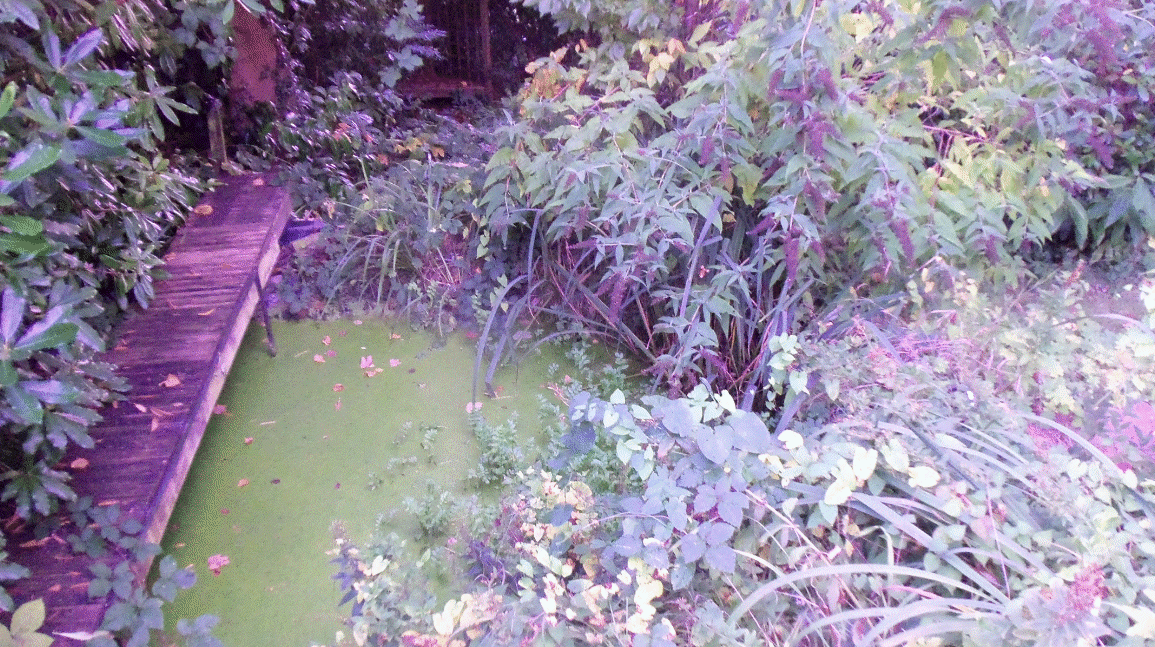 The far end rear of the garden, in the left corner. The end of the back garden can be used to dump shredded waste near the rear fence.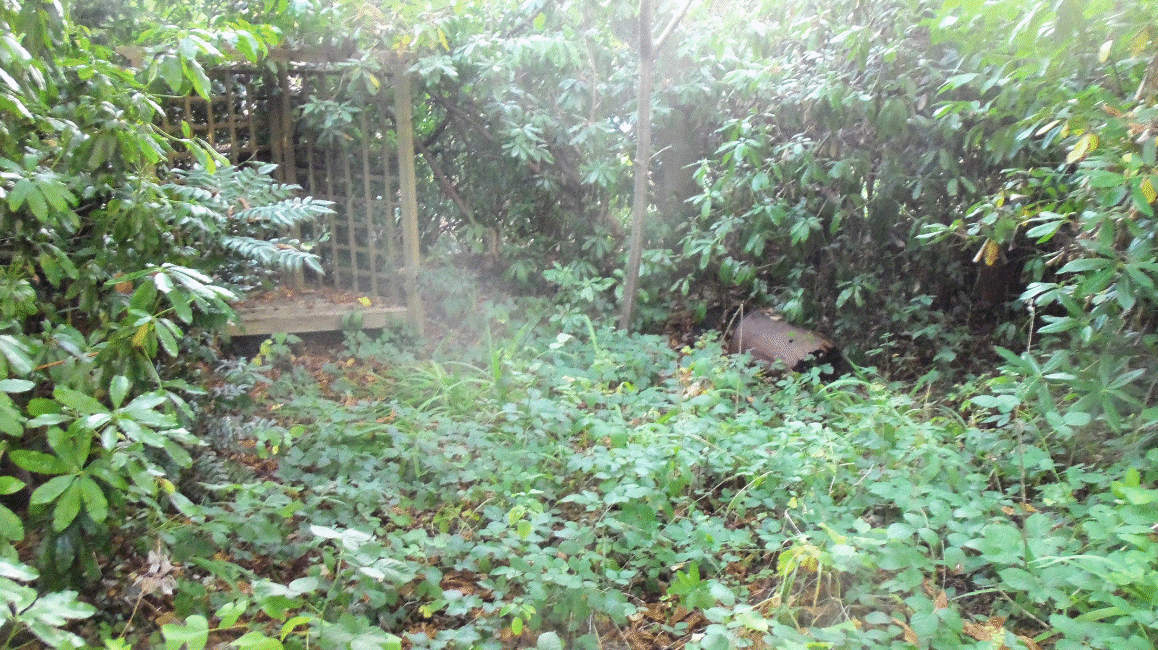 The centre of the rear end: existing compost heap is behind cloths line. First job is to shred some of that. Beware of Snoopy's robot boats ! :-)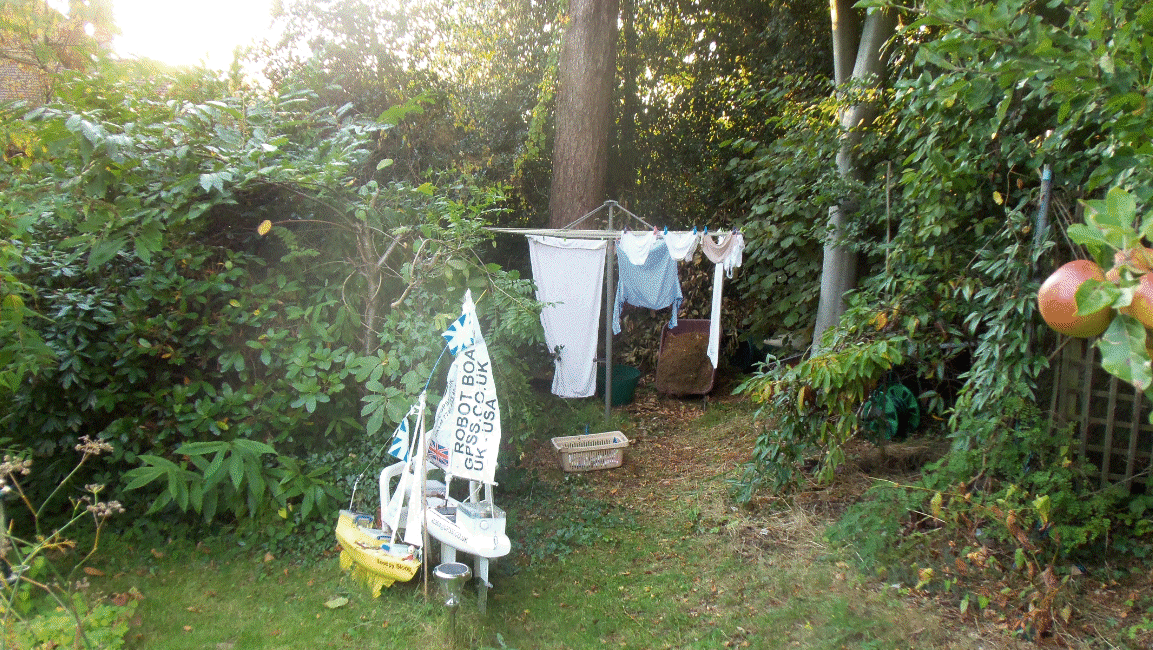 The right hand corner, including things like compost and a large ladder.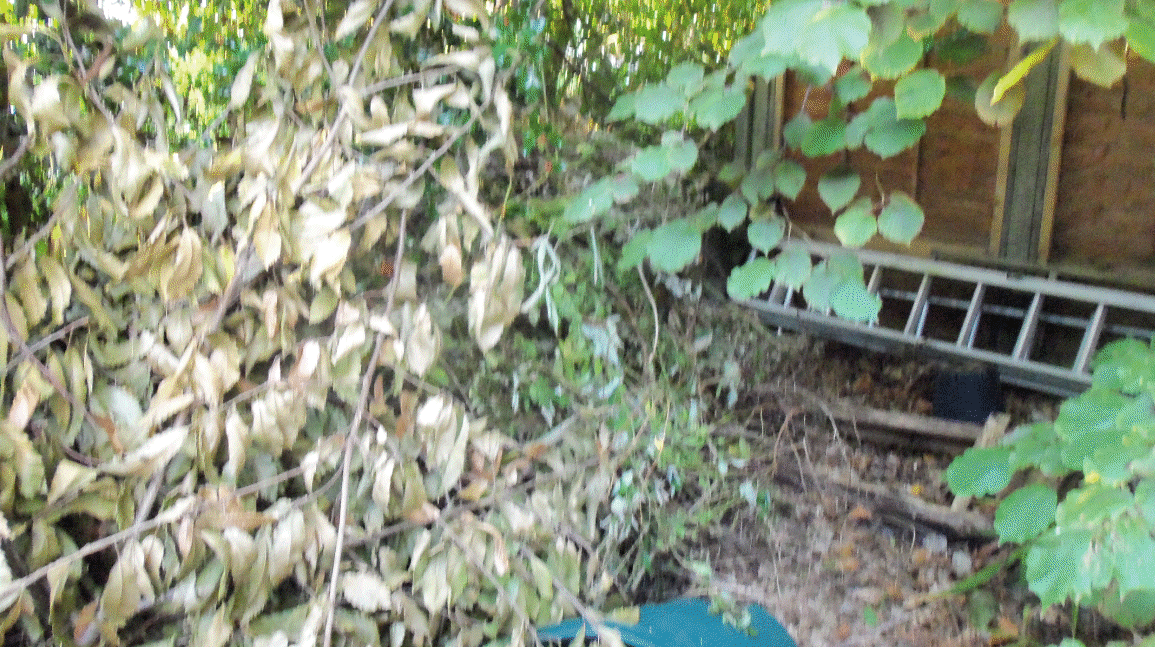 Swinging around to the right ... a very overgrown garden shed, for things like a seldom used lawn mower ! :-)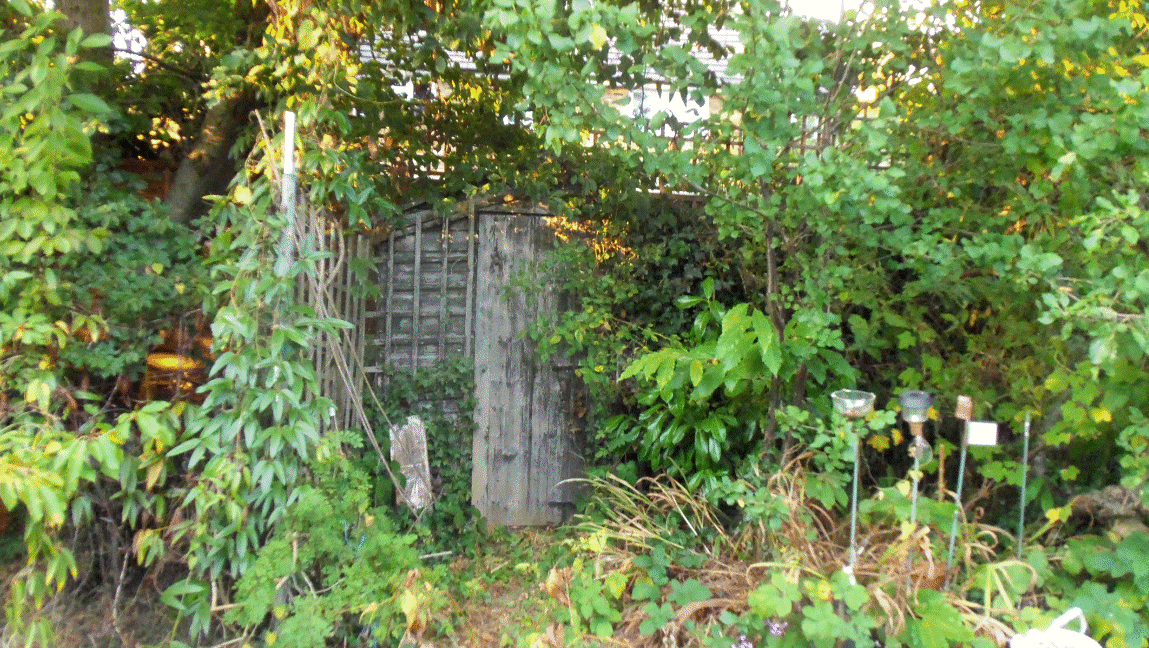 The greenhouse is hidden behind the fig - not much sun getting to it ? :-)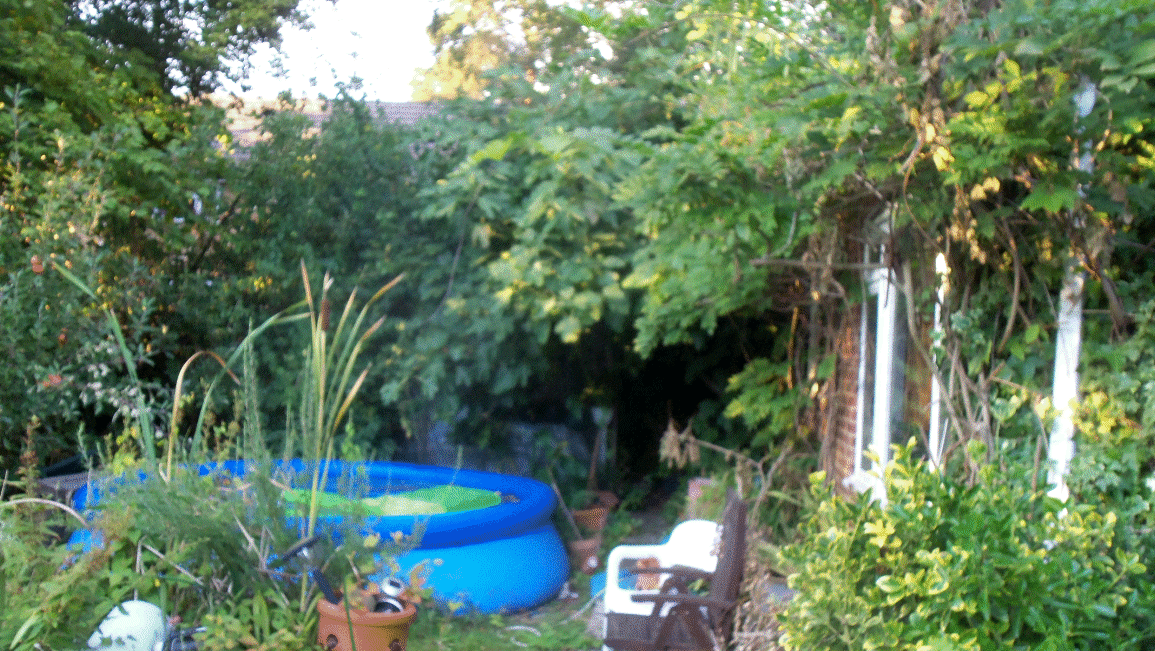 The passage from the back, to the front of the house.... Health & Safety ! :-)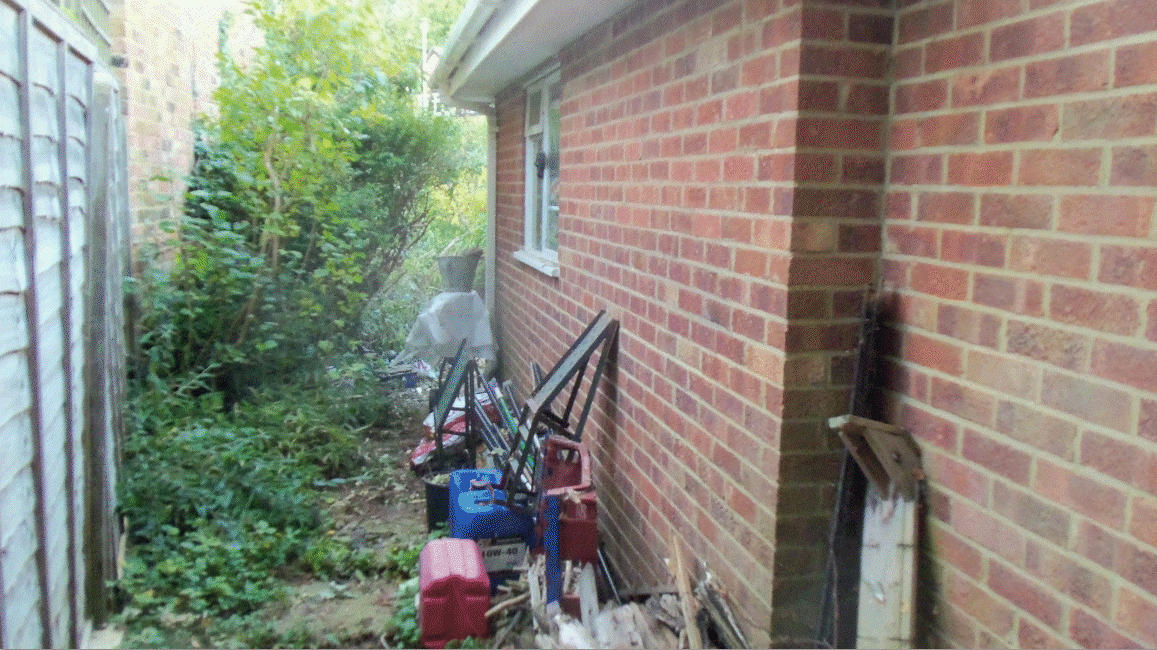 Looking back at the greenhouse from the passage along the side of our property. Yes, that is one of many cameras :-)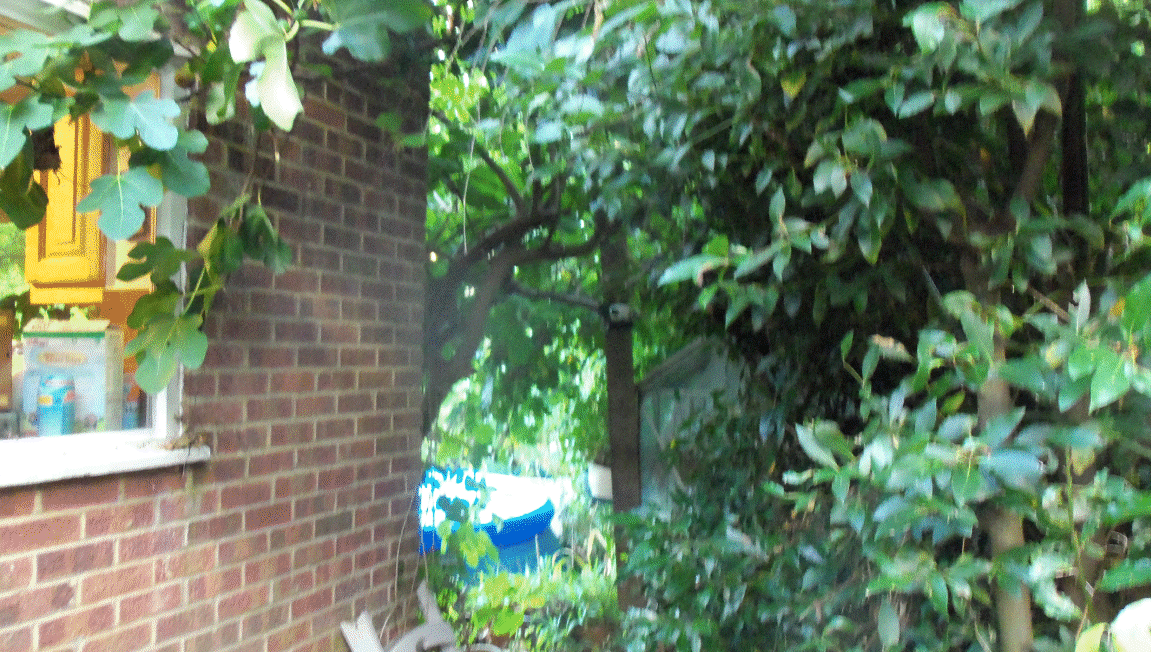 Robin & June at Wisley, taken on the same day as the photos above. Don't worry - we are not looking for a similar result :-)

Visits to this page ...
The visit counters give a rough idea about visits to this page. Most of the visitors will be my extended family, friends, and neighbours - some of who may have a shared interest, and/or have reccomended someone. How the counters work- or don't - is explained at the bottom of the Snoopy page. Times are accurate, but not location. e.g. I may appear as "UK", "Maidenhead", or even "Aberdeen".
Why those translation flags at the top ? No, I don't have a preference for foreign workers, but some of our friends and neighbours don't have English as their first language. I may also use this page for our regular Italian lessons ;-)

© 1991-2018 Robin Lovelock, Sunninghill Systems. 22 Armitage Court, Sunninghill, Ascot, Berks SL5 9TA, United Kingdom.