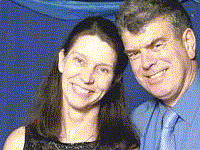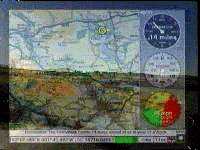 About GPS Downloads Business Partners Contact Family Chase & AVL Links History AsOnTV Holidays Snoopy
Home page of GPSS, the GPS Software from Sunninghill UK, and the Lovelock family.
GPSS pioneered SatNav and tracking for police, military, business, and public, since 1995.
GPS Software and maps on Laptop and Pocket PC for 165 countries in 12 languages.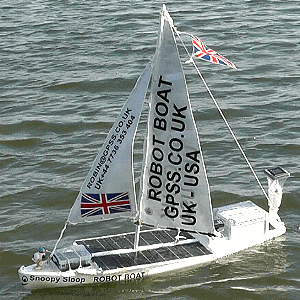 Newsflash 2350 BST Midnight: SNOOPY FOUND UNDAMAGED ON BRIGHTON SEAFRONT ! See "Snoopy" page.
Updated 2350 BST Midnight Monday 30th March 2015 UK time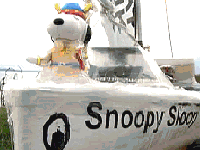 Robin's robot boats made attempts to cross the Atlantic in 2012, 2013 and 2014: The 2015 boat, sailed by Snoopy the Viking, was launched from the UK on Wednesday 18th March : see Snoopy's Robot Sailing Boat or click on the changing picture to the right. Robin officially retired in 2012: June says he retired 10 years before that ! :-) This site began as a business site in 1995, but soon began to support the many thousands of people using GPSS for free, around the World - often in countries where SatNav or AVL was not available. Some of the pages are very old, but some may be updated every day - particularly GPS-related hobby pages ! Robin spends a little of his time on the www.NHSCare.info Coughlan Campaign Charity, helping people in the UK to use the Law to get free long term care from the NHS, and not have to pay for the care home. Since Robin retired, he doesn't have time to do any real work - as June will confirm :-)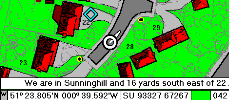 See how to navigate with this GPS Software and GPS, then download and run it on your PC to see a demonstration.
Run it on a Laptop or Pocket PC with a GPS, and this same GPS Software will work for real.
Need a GPS ? click here for advice. See Robin's new toy: the Linx 8 and GPSS with Speech Input.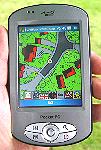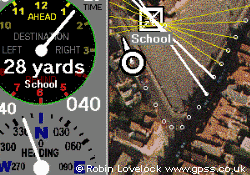 The last software update was GPSS Baseline v6.97 November 2011 with GPSSppc v14 for Pocket PC based Smartphones.
"where is the book ?" See User Guide to GPSSppc for Pocket PC and GPSS Guide for Windows.
HAMs see Amateur Radio and Radio Direction Finding pages. e.g. tracking a radio transmitter - see picture on the right.
Techys can add mapping to GPSS. e.g. maps from Bing and Google maps; sounds for spoken guidance.
"It's like having a little friend in the car with you" :-) - try speech input or make GPSS speak other languages.
Tried geocaching, "GPS Teasure Hunting" that started in 2001 ?
"Speed Trap ! Watch your speed !" - see the speed warning page.
Videos ? See ASONTV and Robin's YouTube Channel A bigger list of pages are here .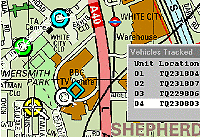 GPSS pioneered navigation and remote tracking for police, military, business and the public, from 1995.
See AVL/CHASE page for remote tracking, including fleet management and security applications.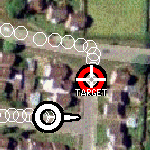 GPSS can track and control multiple vehicles from a fixed or mobile PC, by use of mobile 'phone, radio or satellite communications. The objects tracked may be many miles away, but seen on mapping for 164 countries - right down to "house level" maps. GPSS can also be used in "chase" mode, guiding the driver to a mobile target.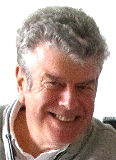 You will see that I am extremely "up front" about who we are, and our GPS Software business since 1995 - now a hobby :-)
Big resources are not needed to give people permission to use GPSS, or make the occasional software change. I have worked in larger companies and on larger projects than most people, and have no need to pretend what I am not. I greatly respect others who are able to be equally "up front" about themselves and their own business - however small it is - so don't be shy :-) Please read my business page.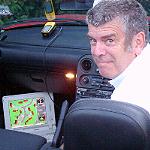 I would like to thank the many thousands of "enthusiasts" around the World who helped us test and improve GPSS. This was a family business, but it is still a great network of friends. Thankyou.
© 1991-2014 Robin Lovelock.
Robin Lovelock, Sunninghill Systems, 22 Armitage Court, Sunninghill, Ascot, Berks SL5 9TA, United Kingdom.
<-- Click on this map to see who is visiting this page.
There have been

visits to gpss.co.uk counted by Web Counter .
This site www.gpss.co.uk is hosted on user28153.vs.easily.co.uk and www.tsogpss.co.uk.gridhosted.co.uk <- remember these.
This site is also automatically copied onto gpss.npl.com but this may not be up to date. The old hosting on www.gpss.force9.co.uk ends in January 2015.
Your browser is on

If this web site is important to you, remember www.gpss.co.uk and bookmark the sites above. Force9/Plusnet Hosting will cease in January 2015.